Digital Living room products -- channel 88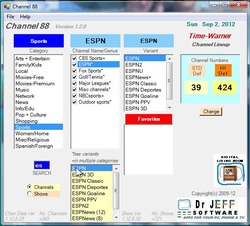 Channel 88 -- your "Best TV Channel Finder" -- is an app that utilizes a PC's full screen and keyboard with simple text search to quickly locate over 900 TV shows and over 300 SD/HD channel pairs per TV service provider: currently Time Warner, DirecTV, Dish, Verizon FiOS.

(Note that even if you do not use any of these 4 providers, the app is still quite useful for finding TV shows.)

Channel 88's text search is much faster than the tedious, multi-operation, no-keyboard search you can do on your TV set-top box.

---
PRICE to buy app is $3.99

purchase through PayPal



Data File versions -- TVSP "Main" files:

Time Warner -- ver=2015.2.26 (recent update)
Verizon FiOS -- ver=13.8.23
DirecTV -- ver=13.8.23
Dish -- ver=13.9.9